For those of you who don't know about
Woot
, it's rad. Also dangerous. But mostly rad. Basically, every day at 12:01 am, they post a new deal for something like an
EEE PC
or a
720p LCD HDTV
. And it's only for that day, until whatever they're selling sells out.
Jesse
got a really good espresso machine for like $200, marked down from like $300-400. Think of how much money we're saving in coffee drinks!
ANYWAY, Woot also has a spinoff site called
Shirt.Woot!
It is excellent - lots of sizes, lots of awesome designs, and many of the t-shirts are actually available after one day - they don't end the sale like regular Woot does. $10-15/shirt, I think is the general price range. Sooooo worth it.
I was browsing through the shirt archives and stumbled upon
this gem of a t-shirt
: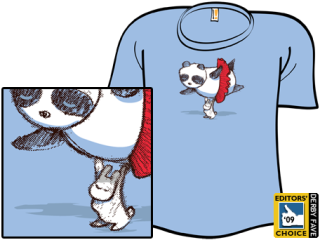 If anyone wants to get me a present.... *wink wink*
ALSO we were watching
Planet Earth
last night and found a tidbit of info for you dedicated panda watchers: the "
Mountains
" episode has a segment about China's
Giant Panda
! I've decided that I must be a panda biologist so that I can snuggle cute panda babies. It is destined.